Jana drifted onto our restaurant floor as so many other wanderers passing through. She however, immediately caught our attention for her curiously positive outlook on life and her kind spirit. We could clearly see that she was searching for something larger in life when she arrived, but then moments later, we could tell that she had found something she was looking for right here in Þórsmörk. We hired her on the spot but it wasn't until much later that we found out her passion for drawing when we noticed her sitting outside with her sketchbook drawing a map for a visiting hiker. It was then we decided that Jana would be our next official Volcano Huts Wandering Artist in Þórsmörk. It is with great pleasure we can now introduce her to you and to the world. Read on.
Hi, my name is Jana and I´ve been a member of the staff here at the Volcano Huts in Þórsmörk since May 2018.
I would describe myself as an open-minded person with my head mostly in the sky. Originally I come from Prague, Czech Republic. I am a graphic designer and used to spend my days in the office next to my laptop, mostly looking through the window and asking myself "why do I not feel happy, even though I have a good job and really nice colleagues?". This question really haunted me and suddenly I felt this need to go travel with my sketchbook to try and find the answers to my big question!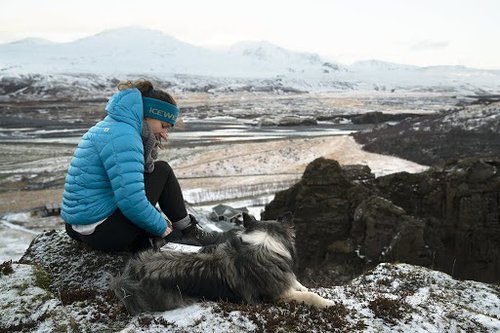 My first travel to Iceland was in June 2015. Like most travellers who visit Iceland, I spent my time driving around the island by car to explore the most known places in the country. As my journey continued started having stronger and stronger feelings for the country and when I finally found Þórsmörk I can honestly say that I fell in love with Iceland. It was strange how even though I had never been there before it instantly felt like my second home. The moment when I felt the connection was when I hiked up to the top of the Valahnúkur mountain, a short distance from the Volcano Huts. The breathtaking views of the Volcanoes and glaciers definitely got me. The peak is surrounded by glaciers and mountains with deep valleys in between and the only sound you hear is the river flowing along the valley floor. It's really amazing how calm nature can be here in Þórsmörk in contrast to the power of the volcanoes looming in the background. I had found my "home" in Þórsmörk. As soon as I got down from the mountain I postponed further travels and applied for a job at the Volcano Huts. That was in May 2018 and I am still here - although I do venture back to civilisation every now and again.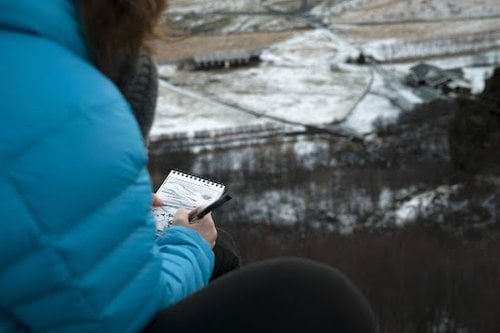 Iceland and especially Þórsmörk have given me incredibly rewarding experiences. I have met a lot of beautiful people and I have found inspiration in the surrounding nature. Wandering around Iceland sketching what I see has shown me the way back to my inner self where I can feel connected with nature. Here in Þórsmörk I spend a lot of my time hiking through the birch forests, rocky mountains and canyons in summer. Sometimes I just sit in the grass with my notebook, drawing postcards, maps and pictures, completely connected and focused on the moment and this place I now call home.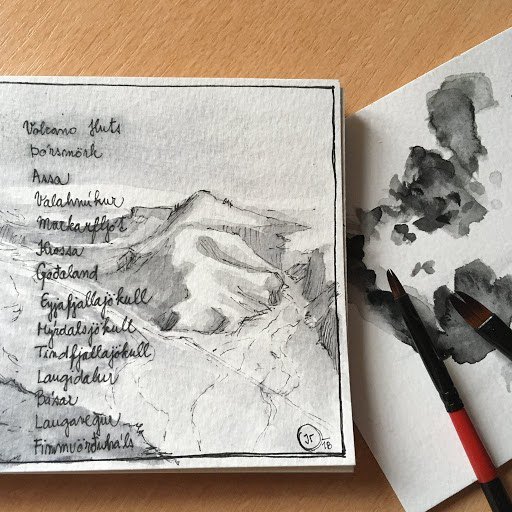 If you see me wandering around Þórsmörk with my sketchbook then feel free to say hello and I will tell you all about my experience from this beautiful place.
-Jana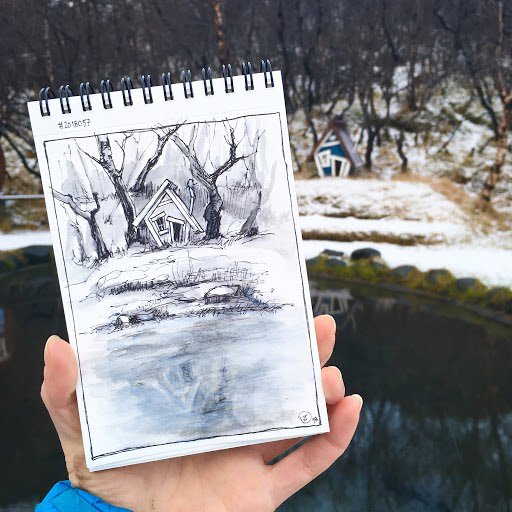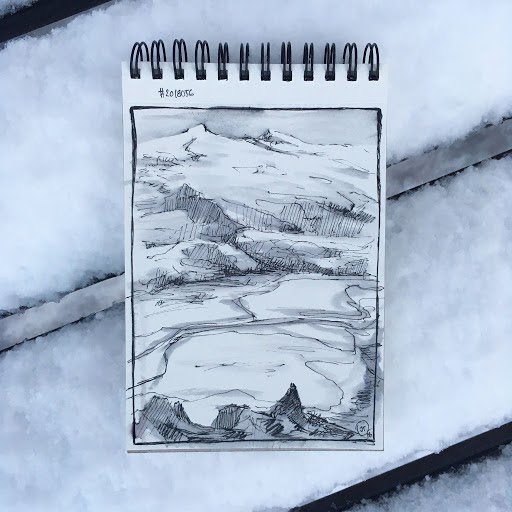 Stay tuned as we will continue to publish some of Jana´s work on our Instagram account. A selection of her photos is available for sale here on our website. Click here to go to the webstore.
Check her out on Instagram #jt_drawcards.
The Volcano Huts Wandering Artist program is intended to allow talented artists the chance to visit Þórsmörk to get inspired by the nature of the area and the people they meet. The artist will then create artwork in return. In some cases, we will produce merchandise to be sold as memorabilia for our customers and the proceeds from the sale go towards funding the maintenance of the trails in Þórsmörk.