Just as with many things in life a 4x4 is not the same as a modified 4x4.
We have seen hundreds of vehicles getting stuck even in the smallest rivers in Þórsmörk and we would not like you to be added to the list.
What is considered a nonsuitable 4x4?
Anything that does not have a snorkel
Any car with tires less than 31"
What is a snorkel? It is the car's breathing device that is attached to modified cars, it is not something that you can take and put back again like in humans, it is a mechanical art!
When you come to Iceland you will see those modified Jeeps all around. Modified with snorkel and huge tires! Some of them have also been lengthened to room more people in them. Why not spend an adventure with more friends and family.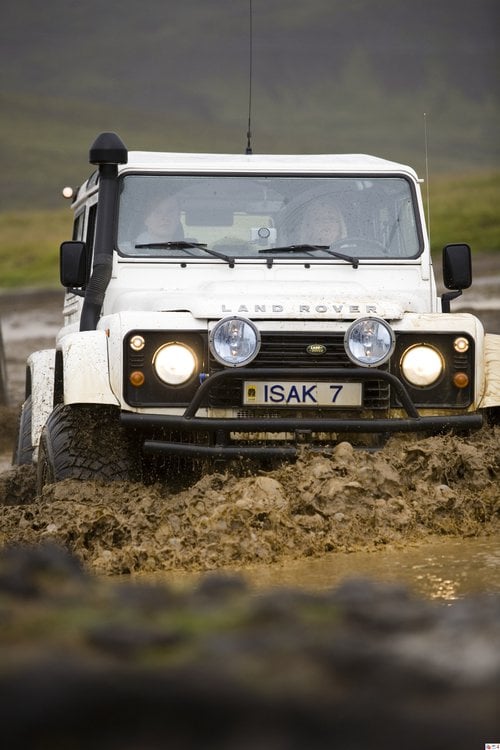 (see the thing on the left side of the picture)
Why big tires?
Think about crossing a river on foot, or going into the ocean. It is not an issue to just walk next to the shore and dip your toes when the water level is low. But when you get in deeper and the water covers some part of your body, then walking becomes difficult and you might even start floating.
The same happens with the cars, when the tires are bigger than the water level, it will not be a problem - sometimes- to cross the rivers. But if the tires are small, there are bigger changes that the car will just float, flip over, and be taken away.
You get the idea.
One of the vehicles recommended to come to us is the classic Land Rover Defender.
But even if you have a large vehicle, you can get into an accident.
How to prevent it from happening?
Be well informed about the rules on driving in Iceland.
Visit the website Safe Travel
Check the weather forecast constantly. As they say, the weather in Iceland changes every 10 minutes.
Check the road conditions just prior to starting driving out
Why rent a "proper 4x4" car?
Because we never know the conditions of the rivers in Þórsmörk. Sometimes they have more water than other times and your car can become a boat, which is not what they are made for unless someone starts inventing a 4x4 vehicle that becomes a boat.
The easiest way to get to Þórsmörk and not think about the type of car to rent, or the conditions of the rivers is just to book a transfer service from Reykajvík, Hvolsvöllur or Brú Base (nearby Seljalandsfoss).
That way, you will just sit back and relax while an experienced Super Jeep driver takes you along the highlands towards Þórsmörk.